Happy Canyon Vineyard Blog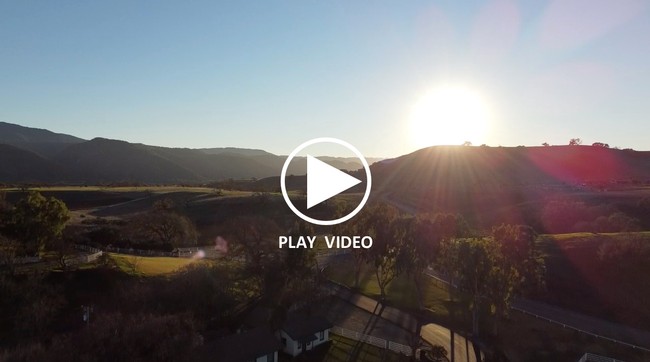 The 2021 harvest brought huge yields with high quality fruit coming from the vineyard. As is our preferred style, the vintage was restrained with lower sugars and higher acids, resulting in wines that will truly take on a classic sensibility. The Bordelaise feel of the 2021 vintage is sure to shine through, with structured yet soft tannins, earthy tones, bright acidity and low alcohol wines. I am beyond excited to see how these wines age and evolve in the barrel.
As we look forward to the year ahead, I'm excited to release the 2021 Piocho Rosé and the 2021 Piocho Sauvignon Blanc in early February. The Block 11 Cabernet Franc remains true to its veracity and provided us with plentiful fruit, resulting in a Rosé wine that is as breathtaking and beautiful as any previous vintage. Our Block 5 Sauvignon Blanc Vineyard, known as "Davey's" block once again has produced rock star fruit, with bright varietal characteristics, yet also supple, round and magical. Going forward in the year, we look forward to continuing our wine club gatherings at the tasting room, having our annual Polo Classic event in July, and enjoying wines with our community.

Here's to good health, good friendships and great wine. Let's all go be awesome in 2022!
Sean D. Pitts
Executive Winemaker

Happy Canyon Vineyard presents the 9th Annual Santa Ynez Polo Classic. Benefiting Santa Ynez People Helping People. October 2nd, 2021.
Tickets on sale now for all wine club members
We look forward to hosting another great event for our wine club members.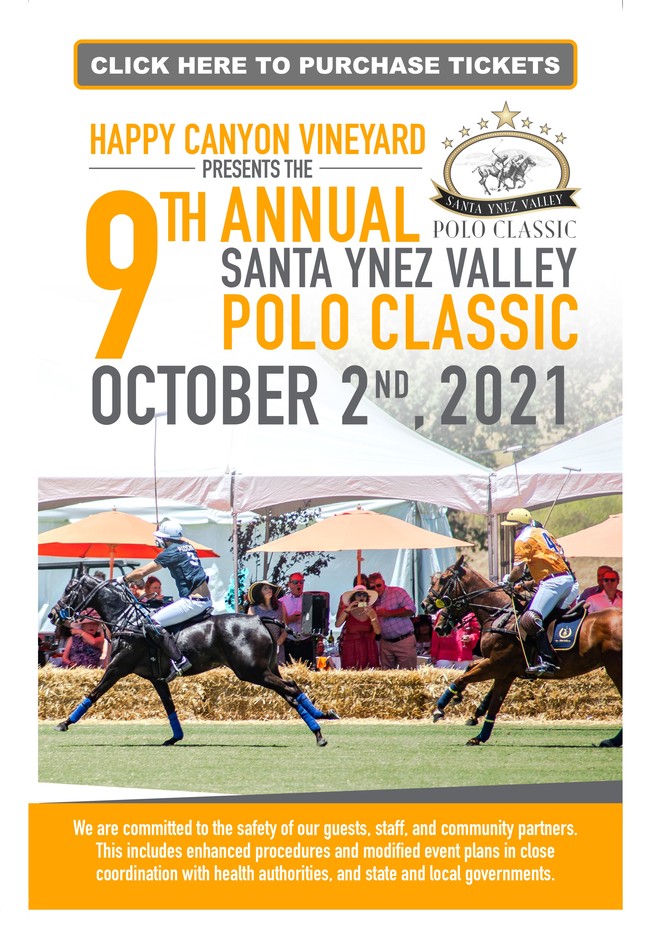 ******
******


2017 BARRACK FAMILY ESTATE TEN~GOAL
CABERNET SAUVIGNON
---
Click video link below for virtual tasting experience with Executive Winemaker, Sean Pitts.
The 2017 Barrack Family Estate Ten~Goal is our luxury Cabernet Sauvignon from Block 8 "Jodi's Block". This is a truly special vineyard; head trained vines produced from cuttings of the legendary To-Kalon vineyard in Napa valley. The vines are planted to a steep southwest facing hillside. Due to the steepness of the slope the vineyard is entirely hand done and the terrain has been untouched by machine.
Wine Enthusiast rated this wine 93 points, stating: "This is an extremely structural wine, starting with aromas of blackberry, cedar, black olive and black pepper. The dark-fruit flavors meet with cedar spice on the palate, where the tannins and acidity will smooth out and reveal more character with time."

LOCAL PICK-UP AVAILABLE
805-203-0749, Option 3

HAPPY NEW YEAR!
Our Happy Canyon Vineyard Tasting Room may not be
hosting wine tastings, but we are here to serve you.
---
Click on the video below to see a New Year message and update from Executive Winemaker Sean D. Pitts. Unfortunately, our in-person wine tastings are currently unavailable due to the COVID-19 Pandemic surge in southern California. However, we remain committed to excellence and serving our customers.
We are offering private and group live virtual tastings. We are flexible in our offerings and would love to host you. Contact us for details and we will be happy to put together something that works best for you.
Our Tasting Room is still available for wine pick-up and curb side delivery! 30 El Paseo, Santa Barbara, CA 93101.
We are open Thursday, Friday, Saturday and Sunday under modified hours. Click here to see details.
Please call: 805-203-0749, Option 3 or email: info@happycanyonvineyard.com
---
2021 NEW YEARS PROMOTIONS STARTS TODAY
- 10% Off All Wines -
- Up to 30% Off for Wine Club -
- Shipping included on 6 bottles or more -

---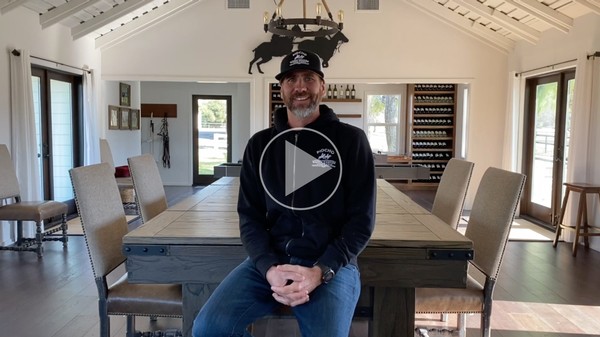 ---

2019 Piocho Sauvignon Blanc, Happy Canyon Vineyard. Virtual Wine Tasting and with Executive Winemaker Sean Pitts and food pairing with Jodi Pitts. The bright and crisp Sauvignon Blanc blended with the ripe, rich Sémillon pairs wonderfully with the spicy salmon roll. Find the recipe at this link: https://www.delish.com/cooking/recipe-ideas/a26950912/spicy-salmon-bowl-recipe/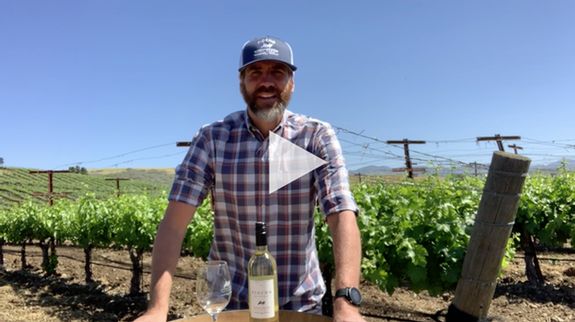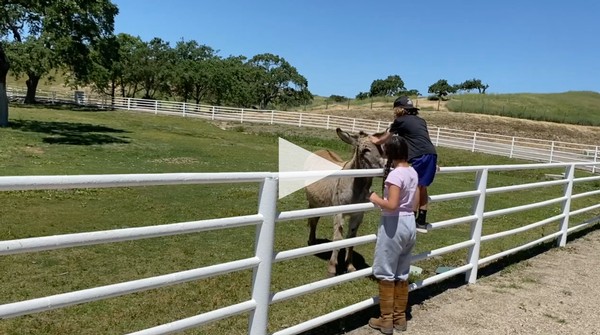 Although we can't hug, handshake or high-five you in person, we wanted to show you our love in a different way. Click on the video above to see how we are going through our daily life. The video also includes a look at the current state of our beautiful vineyards. We made this video as a virtual hug, handshake, and high-five. Enjoy!

Happy Canyon Vineyard Wine Tasting Hosted by Santa Barbara Vintners. 2019 Piocho Rosé wine, 2017 Piocho Patrón Red Wine Blend, 2015 Barrack Family Estate Cabernet Sauvignon Red Wine.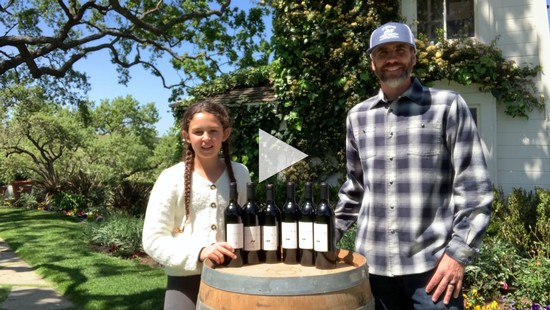 Click on the video below to listen to the fun details and see special guest, my daughter Gracie who talks about her favorite memory between 2011 and 2016.
Purchase a six pack Piocho Red Blend Vertical and receive a special invitation to have a one on one live virtual private wine tasting with me, Sean Pitts, Executive Winemaker.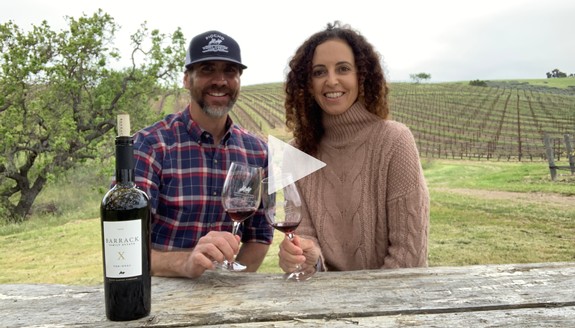 Winemaker Sean Pitts along with his wife Jodi walks you through our 2015 Barrack Family Estate Ten-Goal luxury Cabernet Sauvignon. Happy Canyon of Santa Barbara AVA, Wine Tasting Santa Barbara County, Santa Ynez Valley California.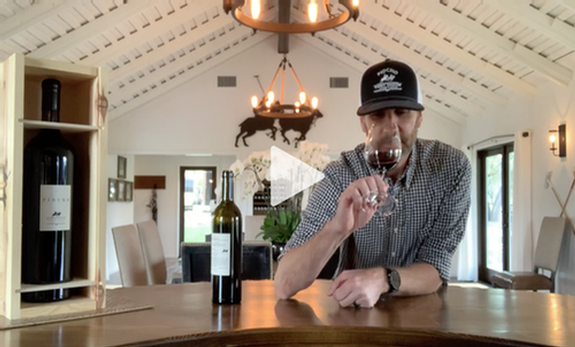 Happy Canyon Vineyard, 2017 Piocho Patrón. Santa Barbara County, CA.