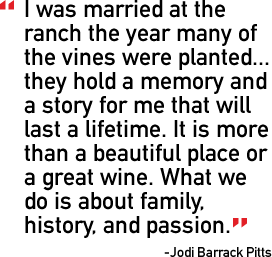 Happy Canyon Vineyard is nestled into the undulating hills of the beautiful Piocho Ranch. We have taken great pride over the years in being stewards of the land and have created something that is unique to the beauty and richness of the place. Piocho, is a Native American Indian word meaning "where the two rivers meet and go to heaven". The ranch is also home to the "Piocho" polo team.
There are the two top wines called Brand and Ten–Goal and two companion wines; PIOCHO is the champion wine which is a classic Bordeaux style. There is also a nouveau styled Bordeaux blend released each Easter (perfect with Spring Lamb) called CHUKKER.
The Cabernet Sauvignon Block 8 is a truly special vineyard; head trained vines planted to the steep hillside adjacent to the road. No tractor works here as the terrain has been untouched by machine.

Vineyard Map and Details

Our Terroir - Happy Canyon of Santa Barabara AVA

Happy Canyon AVA Fact Sheet