Happy Canyon Vineyard Blog


Winery News: July, 2023
Warm Summers and Vibrant Vineyards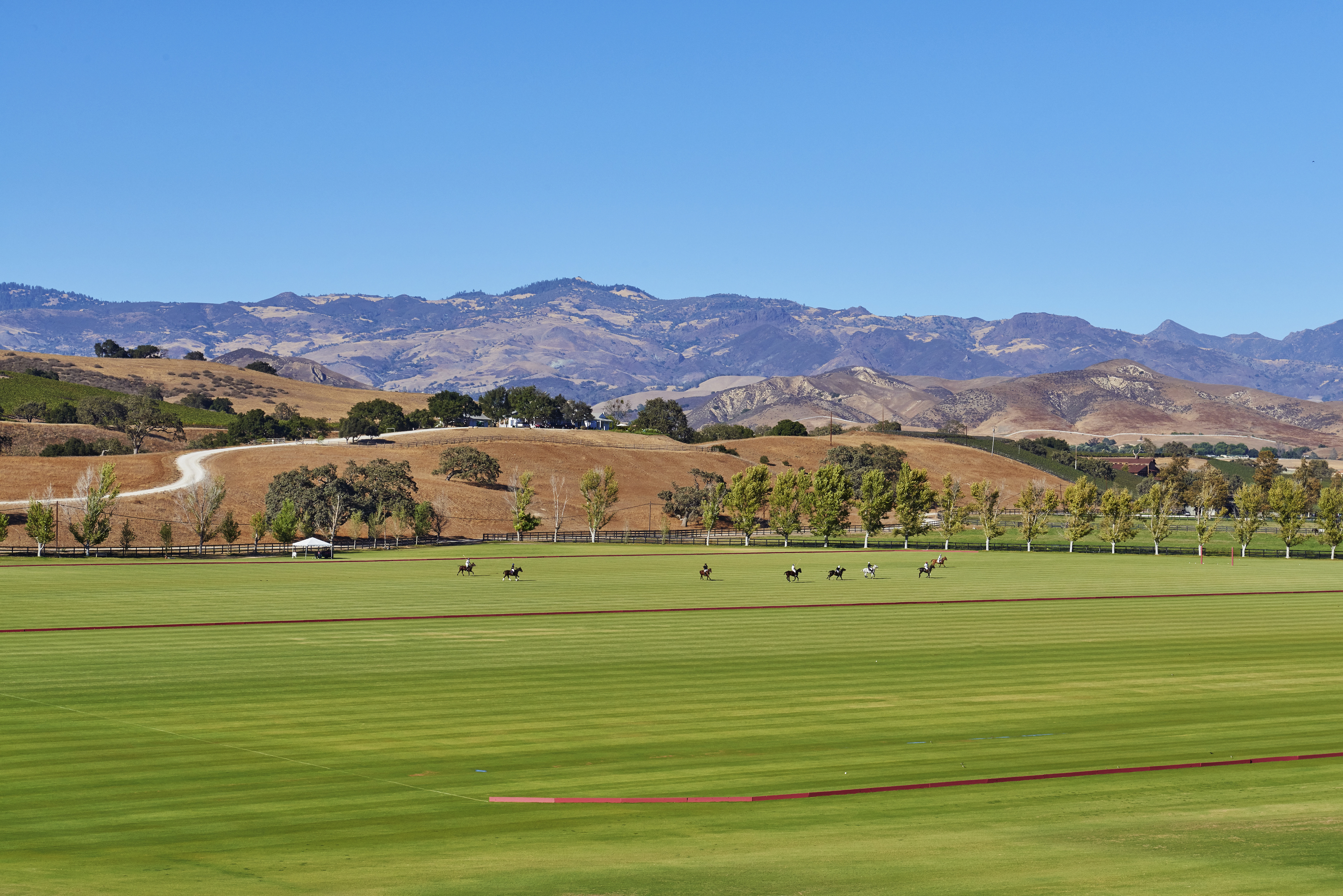 As the cooler spring of 2023 has transitioned into summer, the days have been filled with the warmth of the Southern California sun. The wet winter along with the sunshine has created a vibrancy in our vineyards as our vines are comforted by the plentiful water and the blanket of the sun. As I eagerly await the beautiful fruit that is sure to come during harvest season, I'm reflecting on all the gifts we have been blessed with this summer. The polo ponies galloping in the fields awaiting their next game keep me energized and excited to watch the polo play that has highlighted our summer. Watching my kids jump into our reservoir on these hot days reminds me of the blessings of what feels like the long forgotten wet winter that was only a few months in the past. All of this is just a highlight of what represents the best time to come visit. Now is the time and we would love to see you. See below for all the wonderful ways to come visit and don't forget to pick up some Piocho Sauvignon Blanc as it will keep you refreshed on these hot summer days. Enjoy the summer!
Visit Our Estate at Piocho Ranch
We'd love to see you! Our beautiful, one-of-kind estate in Santa Ynez is available for you to visit. We take a limited number of visitors by reservation only, so make sure you book in advance.
Private Vineyard Wine Experience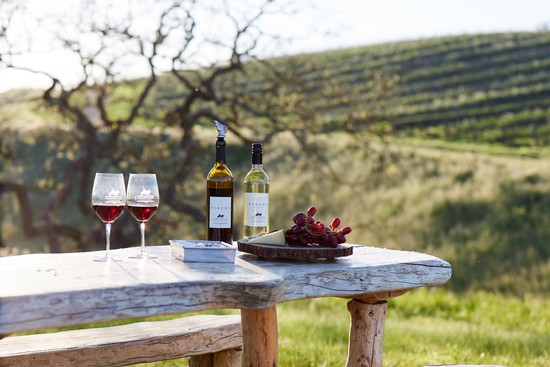 7 days a week by appointment only: For a truly special experience, we offer private, by appointment only wine tasting experiences at our ranch and vineyard. We provide a customized 75-90 minute experience for up to 10 people that includes a vineyard walking tour and overview followed by a tasting of six wines paired with elegant appetizers.
Piocho Experience Farm Stay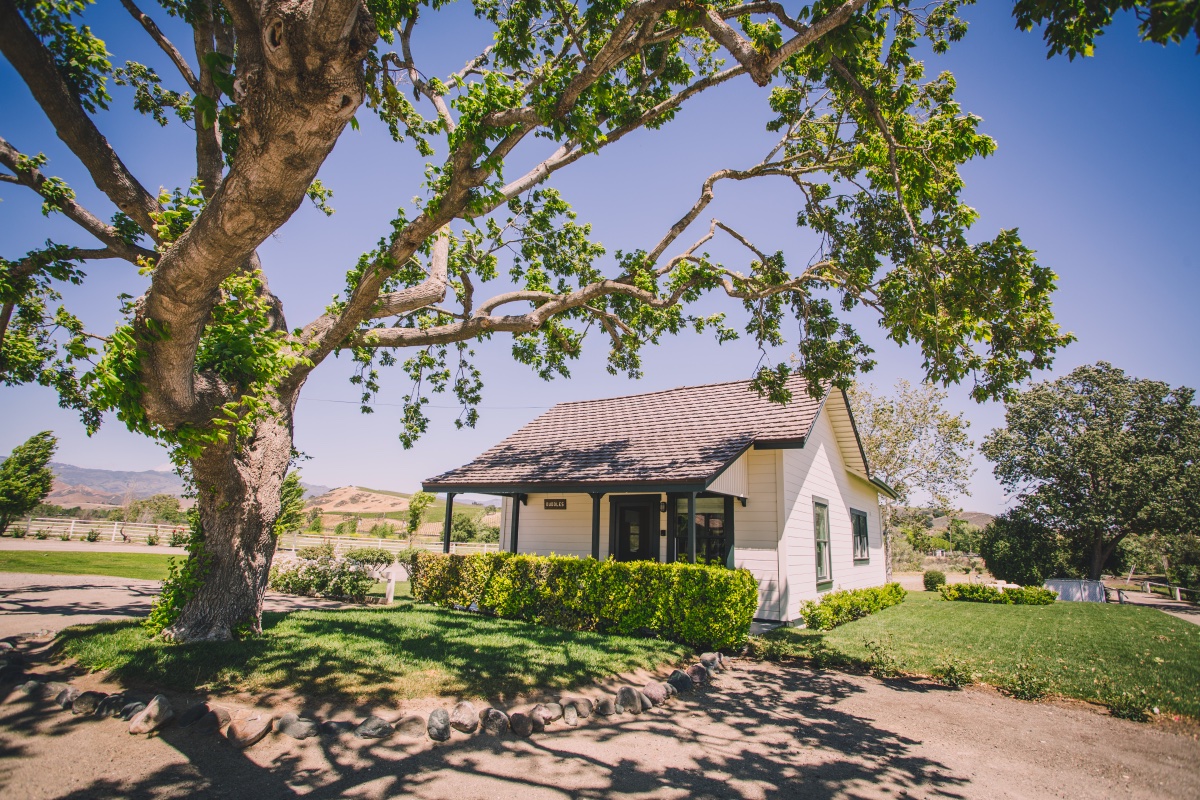 Our wine club members can now enjoy a one of a kind "Piocho Experience Farm Stay." Come stay with us at our Ranch and Vineyard in Santa Ynez, CA.
THE PIOCHO EXPERIENCE INCLUDES
Overnight stays in one of our elegant cottages or vineyard house

A vineyard and wine experience can be scheduled as part of your stay
Featured Wine
2022 PIOCHO SAUVIGNON BLANC
A perfect wine for a sunny summer beach day or to refresh from the hot summer heat. The finished wine exhibits aromas of juicy fruit, lime zest, baked candied grapefruit with hints of fig and vanilla. The wine is bright and tight with luxurious and harmonious persistence. The ripe rich Semillon complements the tight structure of Sauvignon Blanc. In the mouth the wine portrays the minerality of our soils with rich fruit balanced by tart crisp acidity..

We hope to see you soon!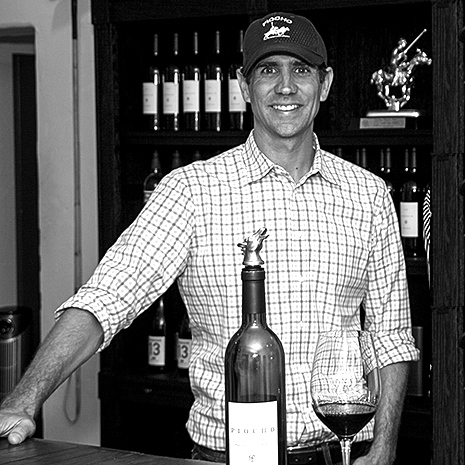 Sean D. Pitts
Executive Winemaker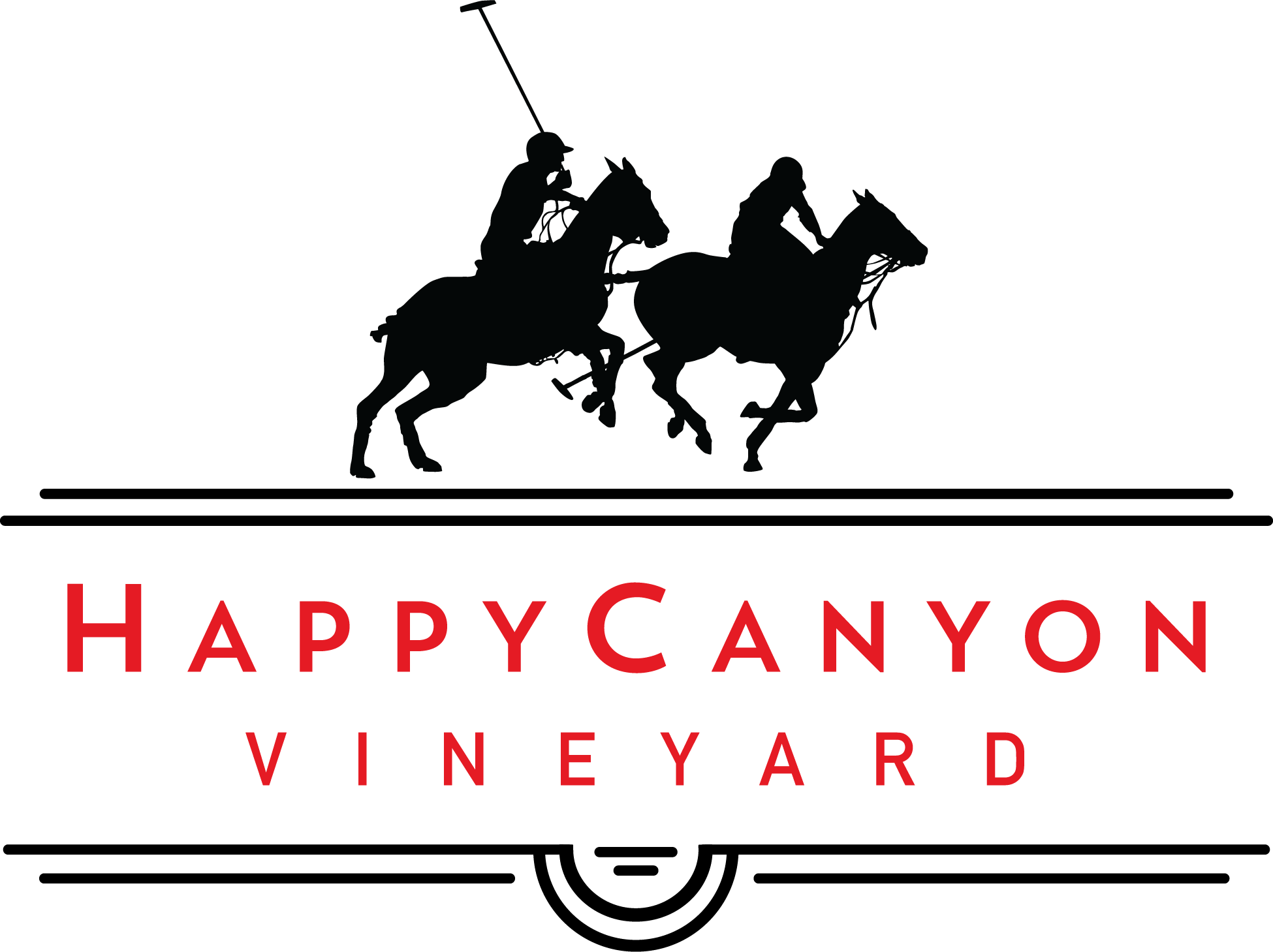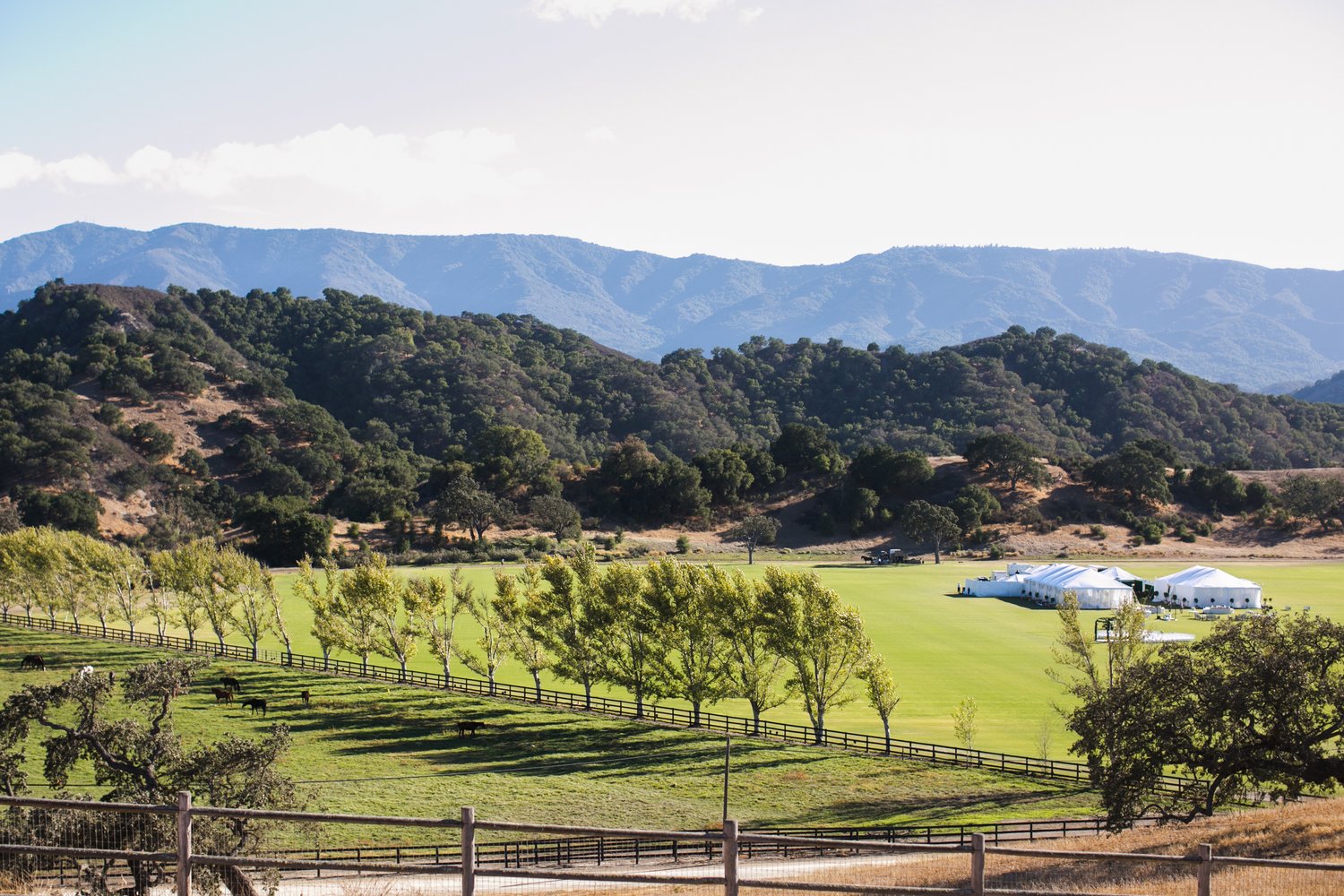 Check out Santa Barbara Wedding Style for this great blog featuring Happy Canyon Vineyard and all the great event venues and features we offer.
Happy Canyon Vineyard is a vineyard and wedding venue in Santa Ynez, California. Couples are welcome to taste their award-winning wines, enjoy a ride through the vineyard, and experience an atmosphere like no other in this rich and beautiful landscape. The estate is surrounded by spectacular views of the Santa Ynez Valley, offering a fairytale setting for your happily ever after.
Happy Canyon Vineyard is family owned and operated. Together, they provide one-of-a-kind spaces in the heart of Happy Canyon. The ranch is a secluded yet mesmerizing venue with a vineyard estate waiting for you. You can host your ceremony, cocktail hour, and reception at any of the venue's stunning locations. The ivy-covered main barn creates an enchanting setting for exchanging vows, while Happy Canyon's beautiful courtyard could be the ideal place for an al fresco dinner. The vineyard house features four bedrooms and five bathrooms, tastefully finished with exposed beams, beautiful wooden floors, and elegant furnishings. From its setting on the highest point of the ranch, the house offers stunning sunset views over the Happy Canyon vineyard on one side and overlooks their world-class polo fields on the other. Guests can mingle at the poolside with cocktails and enjoy the scenic night sky. Happy Canyon Vineyard is also home to Piocho polo fields which serve as a perfect location for many celebrations.
Happy Canyon Vineyard also boasts four newly-renovated cottages, featuring bright white interiors and plush modern furniture. Two cottages have one bedroom, one bathroom, and a fitted kitchen, while the Bobo Cottage offers an extra bedroom. For larger groups, the Polo Suite is perfect. With 3 bedrooms, 4 queen beds, and a locker room-style bathroom, guests can enjoy spacious accommodation after your celebrations.
Happy Canyon Vineyard wants to help you achieve your dream wedding. Their dedicated events team will work with you to meet your needs and ensure you and your loved ones are well looked after. Contact them today to learn more about this beautiful venue.
Pricing: $$$$$ ($15,000+ / day)
Price Range: Packages starting at $15,000 and up to $75,000 depending on venue and timeframe. Please inquire for more details.
Type of venue:
Vineyard
Barn
Ceremony
Farm
Late Night
Private Event Space
Ranch
Reception
Vineyard
Winery
What is provided:
What is required:
Certified Wedding Planner
Contract
Deposit Amount/ Percentage
Reservation with Credit Card
Event Insurance
Restrooms
Valet
Shuttle Services
Lighting
Catering
This is a:
Ceremony Location(s)
Reception Location(s)
Overnight Accommodation(s)
Amplified music allowed? : Yes
Bridal dressing room available on site?: Yes
Restrooms available on site? : Yes
Parking available? : Yes
Alcohol Policy: Wine purchase available from Happy Canyon Vineyard. Full bar allowed from approved vendors.
Time Allotments: Time varies depending on wedding package
Decorations: Select rentals available but decor primarily provided by couple and approved vendors.
Cancellation Policy: 20% deposit required upon execution of agreement.
80% refund for cancellations made at least 60 days prior to event.
Contact Information:
NAME: Jodi Pitts
EMAIL: events@happycanyonvineyard.com
PHONE: (805) 750-1553
WEBSITE: www.happycanyonvineyard.com
ADDRESS: 5050 Happy Canyon Rd. Santa Ynez, CA 93460


Winery News: September, 2022
2022 Harvest Season Is Here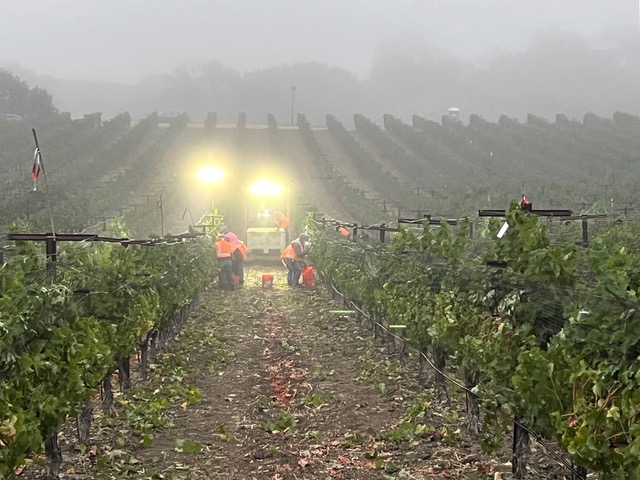 2022 Harvest is upon us. In the midst of one of the hottest and longest heat waves on the central coast of California, the vineyard is looking great. Our vineyards are mature, our grape varietals are robust, and we constantly and consistently prepare for these moments. Even on the hottest days, we work late into the night and early in the morning to prepare our vines. We give them water when they need it and love when they want it. Farming is most often about preparation rather than reaction. Therefore, we choose to work instead of worry. This work brings joy, even when it's difficult.
For us, while harvest is hard work, it's more about why we do what we do, rather than simply what we do. It's about creating a legacy over time that represents our family. We started our harvest year picking our Sauvignon Blanc fruit from "Davey's Block". This fruit is aptly named after our son whose spirit matches the qualities of these vines. Like our son, the fruit is sensitive, yet full of energy and fun. In the coming days we will pick "Gracie's Clone" Cabernet Franc. This one-of-a-kind clone is spicy, vervey and beautiful like our daughter. There is no better representation of who we are. We are a family, and our aim is to spread this sentiment to the world.
Visit Our Tasting Room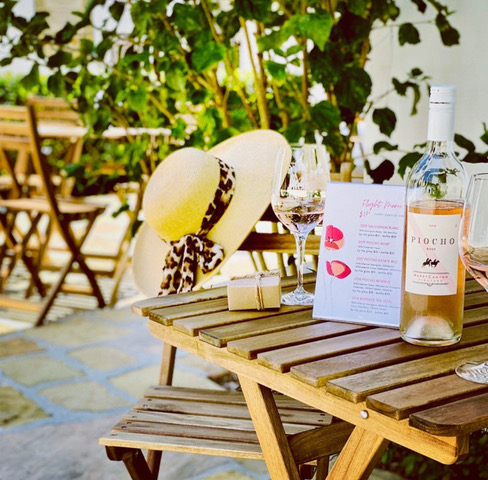 Visit our tasting room in the heart of Santa Barbara, where you'll find a selection of our latest releases to be enjoyed as a tasting flight or by the glass, we also offer wine and artisanal chocolate pairing flights. For a unique and special experience, we offer private tastings by appointment at our ranch and vineyard in Santa Ynez.
Can't Make it in Person? Shop Online!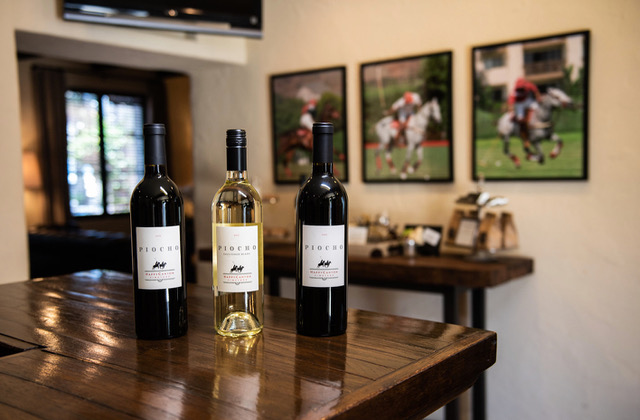 If you are unable to get to our location any time soon, remember that all of our current release wines are available for purchase on our website.
Host Your Next Event

Are you planning a special event? Host your event at our Santa Barbara tasting room or at our vineyard and ranch in Santa Ynez. Get in touch to find about our venues and facilities. You can e mail us at info@happycanyonvineyard.com or call: (805) 203-0749
Despite the record setting heat, the 2022 harvest is going according to our plan. Struggle not only makes us stronger, it makes our wines better. While yields are low, concentration, complexity and character are the result. The 2022 wines are stacking up to be aromatically beautiful and rich with flavor.
Happy Harvest and go be awesome today!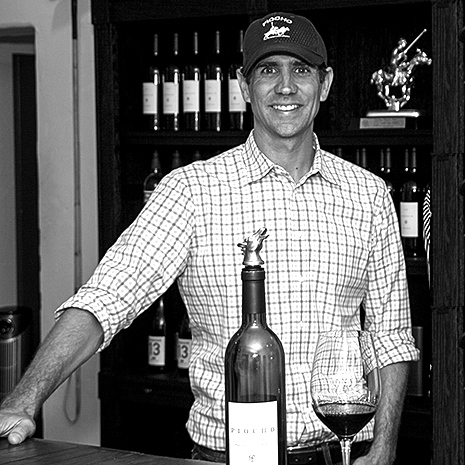 Sean D. Pitts
Executive Winemaker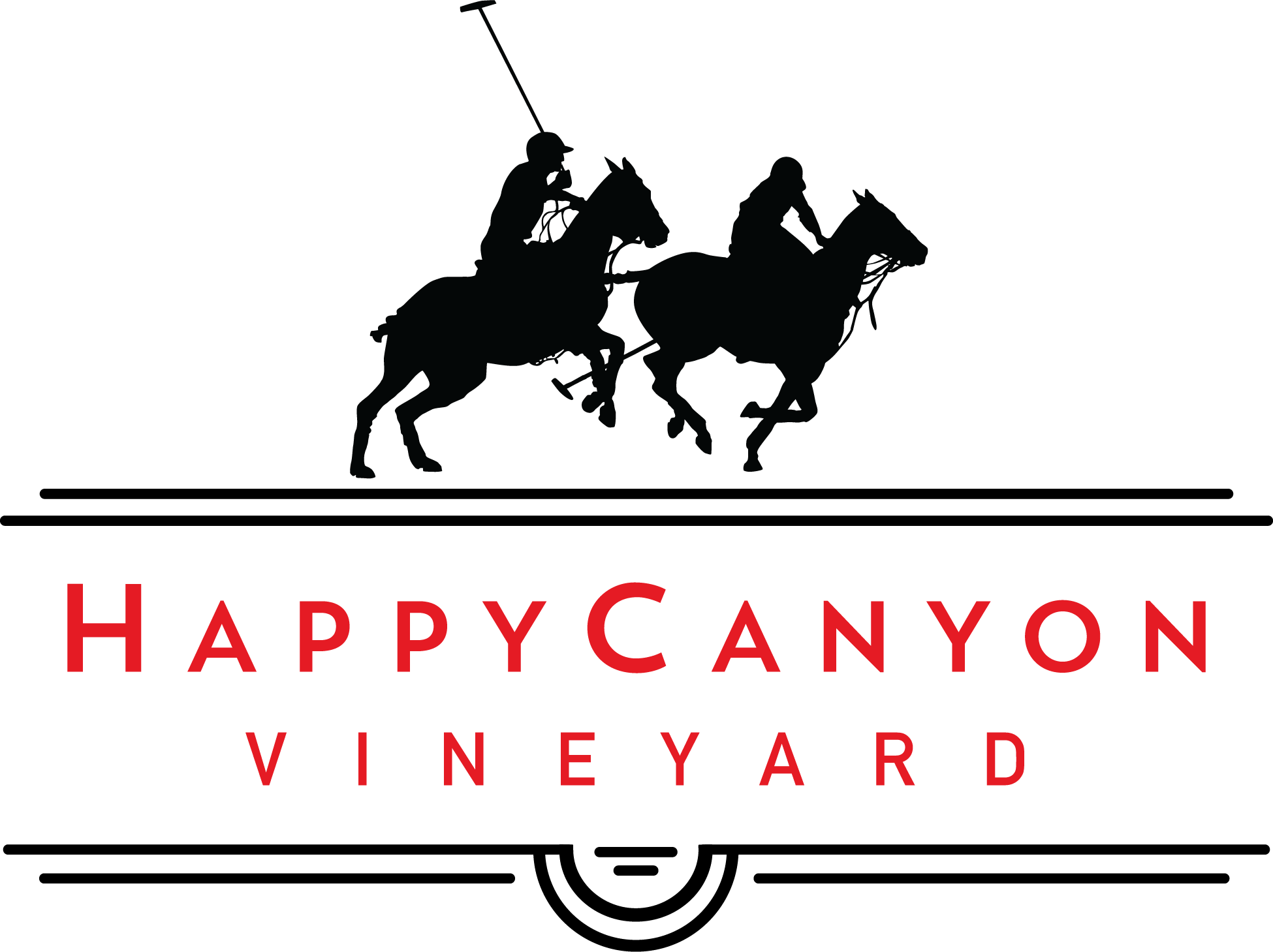 Winery News: May, 2022
Marking the Passage of Time, With Gratitude
This time of year is a busy one. Parents of school age children (like us) will be running from event to event, marking milestones in our children's lives. The weather is warmer and people are traveling, dining, socializing and celebrating. I am full of gratitude that we can be together again. I find myself looking at my kids and marveling at their growth. Time seems to fly by.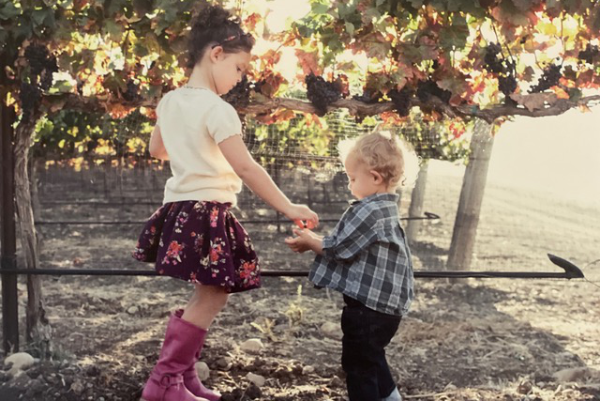 As I write this I'm looking out at the vineyard. The vines are constantly evolving, changing, growing….just like the kids, The leaves are getting greener, more lush. The vines that were bare a few months ago are now filling in and growing. The vineyard is a beautiful marker of time. It changes with the seasons, works hard producing fruit and providing for our family. It is a constant. It is one that I hope will be here for generations to come. That is our wish as a family.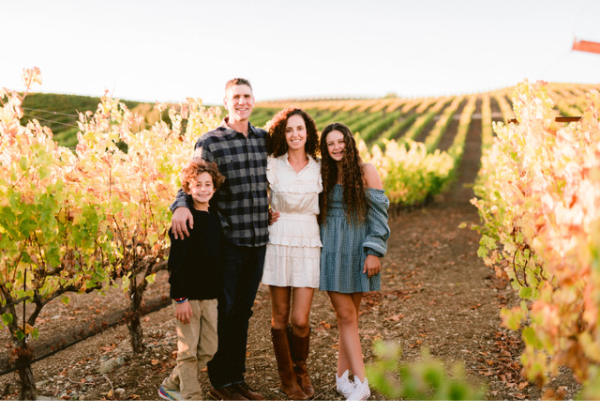 Before I sign off, there are a couple of things to remind you about: the upcoming Santa Ynez Valley Polo Classic, and our featured wine, which you will definitely want to try!
Santa Ynez Valley Polo Classic, July 9th
World-class polo comes again this year to the Santa Ynez Valley, presented by Happy Canyon Vineyard. The mission is to raise much-needed funds for People Helping People's programs, which are dedicated to improving the lives of adults and children in the Santa Ynez Valley and Los Alamos by addressing emergency and basic needs.
Featured Wine: 2019 Piocho Patrón
Patrón means "leader" or "boss" in Spanish. Our newest Piocho Red Blend lives up to the title, as it is crafted from only the finest fruit in our vineyard. A limited production red blend, this wine is lush with broadly structured tannins and an air of a classic Bordeaux blend that will improve with age. A must try!
We are are thankful to you for the support you've given us though the years and we look forward to a bright future!

Jodi B. Pitts, Vintner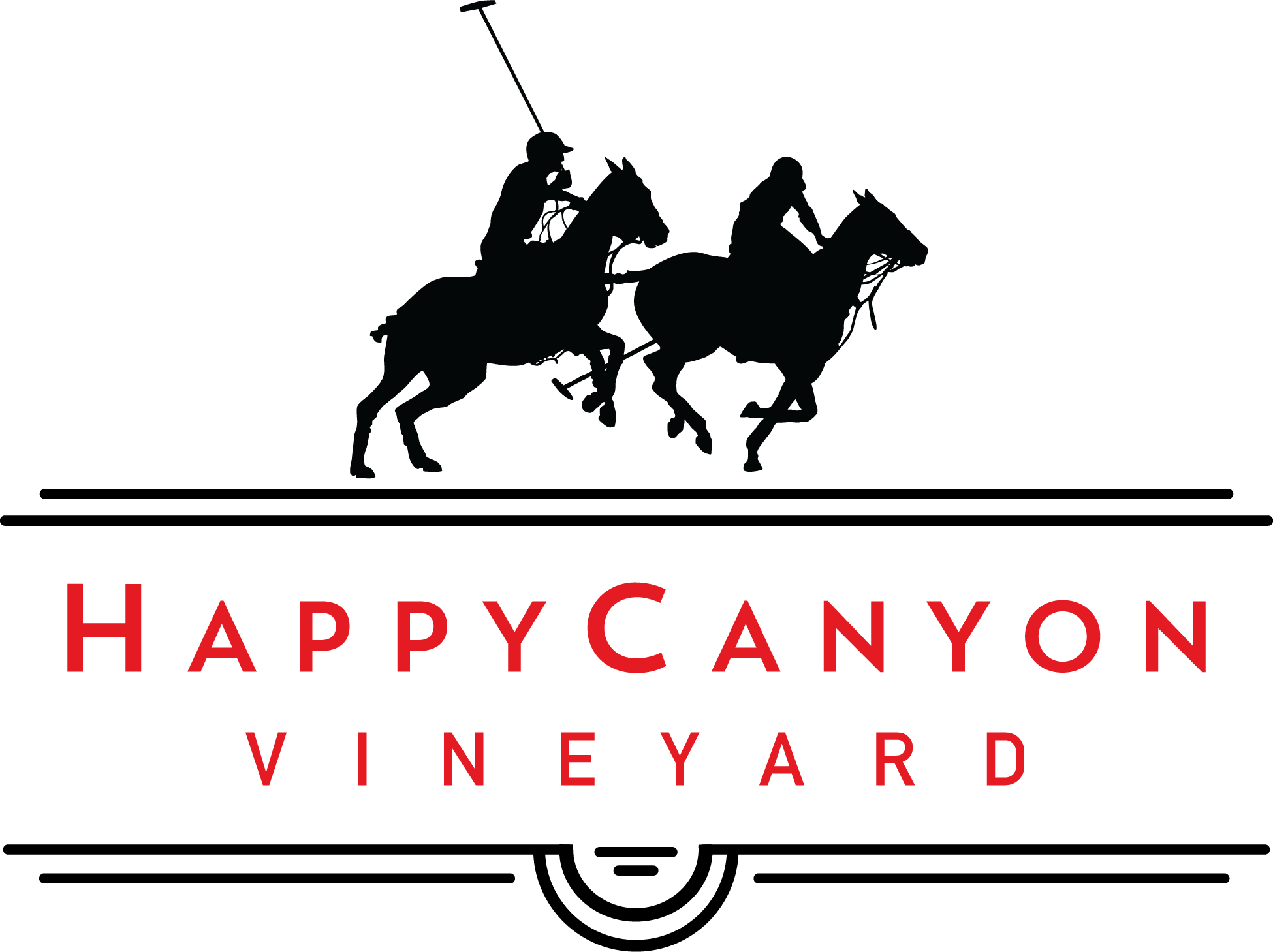 July 9, 2022
10:30am till 3:30pm

Piocho Ranch, Happy Canyon Vineyard
Santa Ynez, CA
---
Wine Club Members and your guests, please join us
Wine Club Members (Max of two tickets per member): $95 per person
Guest of Wine Club Members: $105 per person
Children under 12 are FREE!
FULL EVENT DETAILS BELOW
---

---
EVENT TICKET INCLUDES:
Parking
Reserved Tented Seating
California inspired Argentine BBQ lunch (Vegetarian options available)
Selection of Happy Canyon Vineyard Wines
Local Beer
Water & Soft Drinks
3 Polo Matches
Half Time Divot Stump during the Feature Polo Match
Hat Contest
Kids tent.
EVENT TIME
July 9, 2022, 10:30 AM - 3:30 PM (Gates open at 10:30 AM, there is no early admittance)
EVENT LOCATION
Happy Canyon Vineyard at Piocho Ranch. 1100 Secretariate Road, Santa Ynez, CA 93460.
OVERVIEW
By bringing world-class polo to the Santa Ynez Valley, the Happy Canyon Vineyard presents the SYV Polo Classic. The mission is to raise much-needed funds for People Helping People's programs, which are dedicated to improving the lives of adults and children in the Santa Ynez Valley and Los Alamos by addressing emergency and basic needs.
WINE CLUB VENUE
We offer shaded seating with perfect viewing for the Polo matches.
EVENT SCHEDULE
10:15 A.M. | Wine Club Gates Open
10:30 A.M. | JUNIOR POLO MATCH
11:15 A.M. | WOMENS POLO MATCH
12:15 P.M. | CA style Argentine BBQ Luncheon paired with Happy Canyon Vineyard Wines
1:15 P.M. | Parade of Players, Flag Presentation by Sherriff's Mounted Unit and National Anthem
1:30 P.M. | FEATURE POLO MATCH
1:45 P.M. | 1st Intermission and Divot Stomp
2:15 P.M. | 2nd Intermission and Hat Contest Winners Announced/Silent Auction Closes
2:45 P.M. | Conclusion of Feature Match
3:00 P.M. | Presentation of Awards
THE MATCHES
The SYV Polo Classic will feature three matches: A preliminary match of junior players, a women's match, and a post-lunch game featuring high goal professionals with an intermission divot stomp.
AWARDS CEREMONY
At the conclusion of the featured match, an awards ceremony is conducted at midfield for guests to safely gather, mingle with the players, and view the presentations of the Perpetual Winner's Trophy, Carlos Gracida Sportsmanship Award, Most Valuable Player, Best Playing String of Ponies, and Best Playing Pony.
HAT CONTEST
Guests are invited to dress for a hat contest with fabulous gift baskets for the winners.
ATTIRE
Guests are encouraged to dress for the day! There is a hat contest in each ticket section with fabulous gift baskets for winners. Weather varies but high temperatures are expected. To access current weather at event: www.weather.com and use zip code 93460. Sunscreen, hats and light-weight clothing are recommended. Guests are encouraged to wear comfortable shoes (flats, sandals or wedges for women) as there is a 5 minute walk to and from event parking. There is cart transportation for the mobility-impaired.
**** Please, no outside alcohol and no pets (with the exception of service animals) are allowed. ****
DONATE TODAY
Our needs have multiplied many times over as a result of COVID-19's economic impact. This signature event is our banner fundraiser and your support ensures we can help local families in need year-round. Please consider adding a special donation to your ticket purchase.
MAIL A DONATION
If you would like to mail a donation, please make a check payable to "Santa Ynez Valley People Helping People" and send it to P.O. Box 1478, Solvang, CA 93464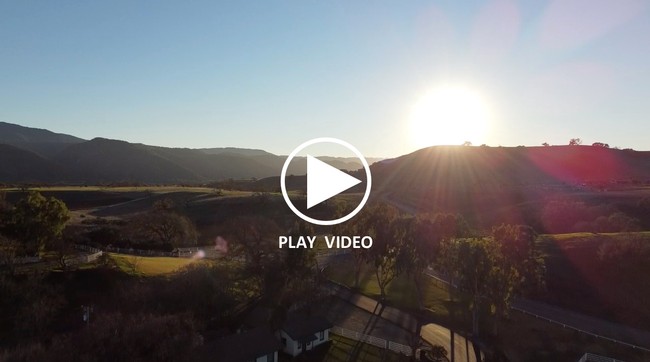 The 2021 harvest brought huge yields with high quality fruit coming from the vineyard. As is our preferred style, the vintage was restrained with lower sugars and higher acids, resulting in wines that will truly take on a classic sensibility. The Bordelaise feel of the 2021 vintage is sure to shine through, with structured yet soft tannins, earthy tones, bright acidity and low alcohol wines. I am beyond excited to see how these wines age and evolve in the barrel.
As we look forward to the year ahead, I'm excited to release the 2021 Piocho Rosé and the 2021 Piocho Sauvignon Blanc in early February. The Block 11 Cabernet Franc remains true to its veracity and provided us with plentiful fruit, resulting in a Rosé wine that is as breathtaking and beautiful as any previous vintage. Our Block 5 Sauvignon Blanc Vineyard, known as "Davey's" block once again has produced rock star fruit, with bright varietal characteristics, yet also supple, round and magical. Going forward in the year, we look forward to continuing our wine club gatherings at the tasting room, having our annual Polo Classic event in July, and enjoying wines with our community.

Here's to good health, good friendships and great wine. Let's all go be awesome in 2022!
Sean D. Pitts
Executive Winemaker

Happy Canyon Vineyard presents the 9th Annual Santa Ynez Polo Classic. Benefiting Santa Ynez People Helping People. October 2nd, 2021.
Tickets on sale now for all wine club members
We look forward to hosting another great event for our wine club members.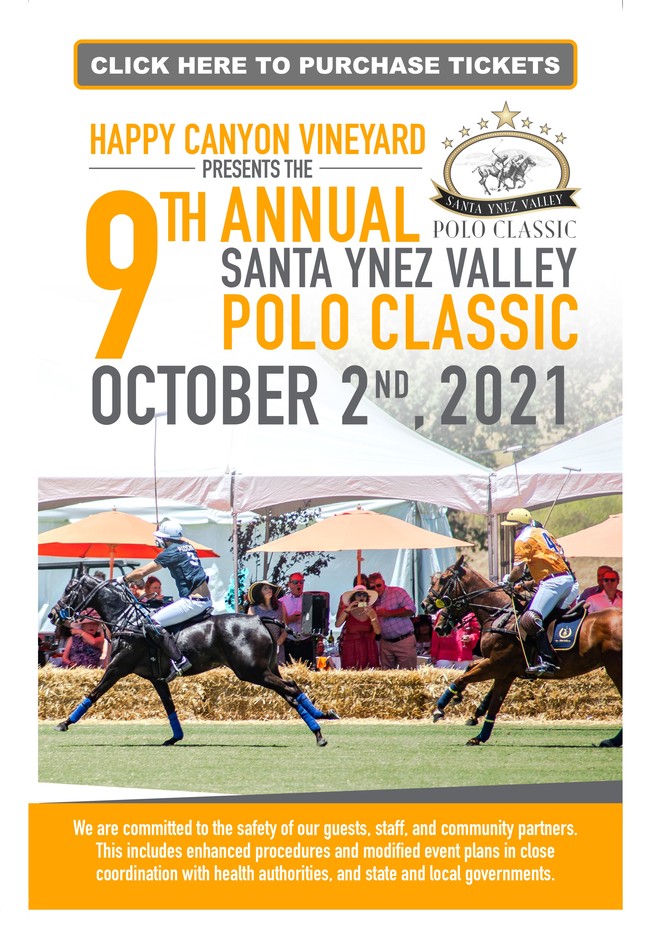 ******
******


2017 BARRACK FAMILY ESTATE TEN~GOAL
CABERNET SAUVIGNON
---
Click video link below for virtual tasting experience with Executive Winemaker, Sean Pitts.
The 2017 Barrack Family Estate Ten~Goal is our luxury Cabernet Sauvignon from Block 8 "Jodi's Block". This is a truly special vineyard; head trained vines produced from cuttings of the legendary To-Kalon vineyard in Napa valley. The vines are planted to a steep southwest facing hillside. Due to the steepness of the slope the vineyard is entirely hand done and the terrain has been untouched by machine.
Wine Enthusiast rated this wine 93 points, stating: "This is an extremely structural wine, starting with aromas of blackberry, cedar, black olive and black pepper. The dark-fruit flavors meet with cedar spice on the palate, where the tannins and acidity will smooth out and reveal more character with time."

LOCAL PICK-UP AVAILABLE
805-203-0749, Option 3

HAPPY NEW YEAR!
Our Happy Canyon Vineyard Tasting Room may not be
hosting wine tastings, but we are here to serve you.
---
Click on the video below to see a New Year message and update from Executive Winemaker Sean D. Pitts. Unfortunately, our in-person wine tastings are currently unavailable due to the COVID-19 Pandemic surge in southern California. However, we remain committed to excellence and serving our customers.
We are offering private and group live virtual tastings. We are flexible in our offerings and would love to host you. Contact us for details and we will be happy to put together something that works best for you.
Our Tasting Room is still available for wine pick-up and curb side delivery! 30 El Paseo, Santa Barbara, CA 93101.
We are open Thursday, Friday, Saturday and Sunday under modified hours. Click here to see details.
Please call: 805-203-0749, Option 3 or email: info@happycanyonvineyard.com
---
2021 NEW YEARS PROMOTIONS STARTS TODAY
- 10% Off All Wines -
- Up to 30% Off for Wine Club -
- Shipping included on 6 bottles or more -

---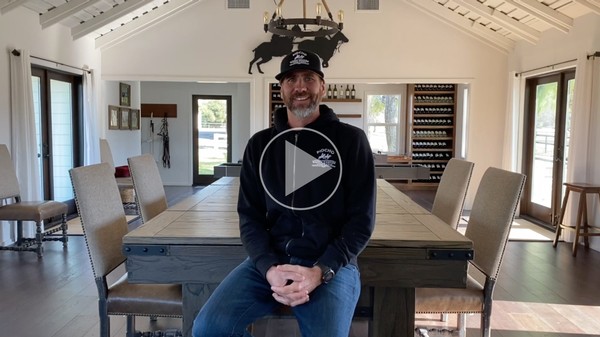 ---

2019 Piocho Sauvignon Blanc, Happy Canyon Vineyard. Virtual Wine Tasting and with Executive Winemaker Sean Pitts and food pairing with Jodi Pitts. The bright and crisp Sauvignon Blanc blended with the ripe, rich Sémillon pairs wonderfully with the spicy salmon roll. Find the recipe at this link: https://www.delish.com/cooking/recipe-ideas/a26950912/spicy-salmon-bowl-recipe/