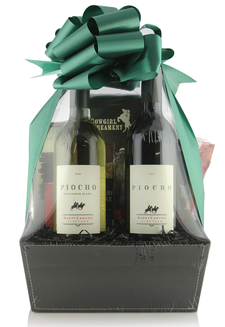 Piocho Gift Basket
Gift Basket
Our "Get Happy" gift basket is the perfect gift. We have hand-selected and packaged gifts that are sure to make someone smile!
Our custom basket includes:
One bottle of our 2017 Piocho Estate red blend

One bottle of our 2019 Piocho Estate Sauvignon Blanc

Assorted gourmet chocolates

Clif Family walnuts and almonds

Jcoco Arabica Espresso Chocolate Bar

Rustic Bakery flatbreads

Rustic Bakery Cookies Cacao

Charels Toffee Chocolate Macadamias!
These amazing wines and delicious artisan small bite snacks are the perfect way to brighten someones day.