2017 Piocho Patrón
Bordeaux Red Blend
2017 Happy Canyon Vineyard Piocho Patrón Red Blend
AVA
HAPPY CANYON OF SANTA BARBARA
ESTATE GROWN, HAPPY CANYON VINEYARD
Proprietary red blend of Cabernet Sauvignon, Cabernet Franc, Merlot, Petit Verdot and Malbec.
WINEMAKING NOTES
The 2017 vintage was a true reflection of our potential. 2017 saw the first significant winter rains in some time, with heavy storms in January and February. Vine vigor was normal due to a cool spring. Wind and cool weather at fruit set, left a slightly smaller than average crop. Summer saw warm to hot days with cool evenings. August and into fall was ideal, with warm days and cool nights, allowing the grapes to ripen. A couple of dangerous heat spikes that we faithfully managed as we were able to harvest in ideal conditions. The fruit reached perfect physiological ripeness retaining natural grape acidity resulting in very balanced wines with rich concentrated varietal flavors. The wine was fermented in small lots using hand-crafted winemaking techniques and matured for 22 months in a combination of new and seasoned, two year old, and neutral Taransaud French Oak Barrels. The wine was racked three times in barrel and bottled in July of 2019.
TASTING NOTES
Patrón means "leader" or "boss" in spanish. In polo Patrón is the common term used for the leader and owner of the polo team. Therefore, our newest Piocho Red Blend wine has been crafted from the best portions of our vineyards which lead the way enabling us to produce the best wine we can make. The wine is a true vineyard blend, where the vintage conditions dictate the resulting wine. We craft this wine with the idea of making the best wine possible, not the same wine every year. The 2017 Piocho Patrón is true beauty that shows off the highest quality fruit from the vineyard. It has a medium to full body with beautiful dark ruby rich color. Aromatically, the wine is uplifting with notes of blueberry, black cherry, clove, cedar wood and plum. A touch of green tea herbaceous-ness that round out the amazing and beautiful complexities of this wine. On the palate the wine is richly concentrated, beautifully focused, with deep-set dark blueberry and cherry along side some earth tones and blackcurrant. The wine is lush with broadly structured tannins, It has an air of a classic Bordeaux blend that is indicative of a the wine that will certianily evolve with time. The finish is persistent and lingering producing a zesty and long, gravitating finish. The wine is wonderful to drink today and will continue to evolve in balance, length and complexity as the more structured Cabernet Sauvignon matures. This wine will continue to develop and excel over the next ten years.
CASES PRODUCED
257 Cases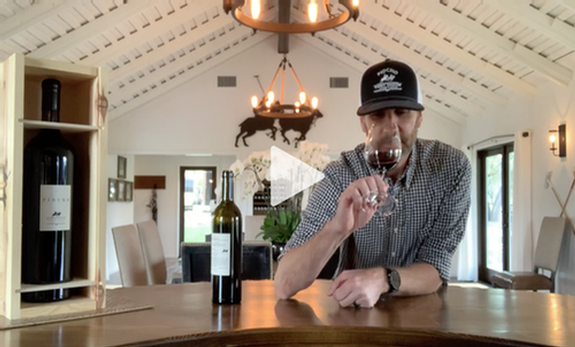 Wine Specs
Appellation
Happy Canyon of Santa Barabara